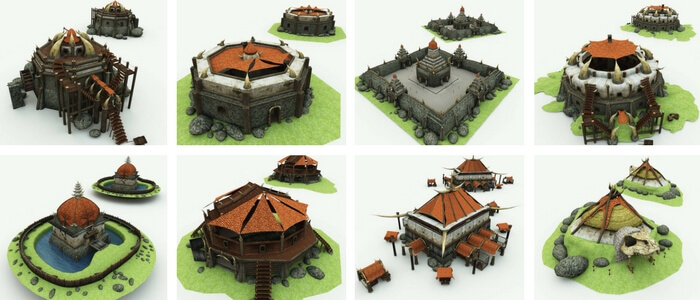 Eight model set of 3D models for game development, art and animation now features high resolution maps, including normal maps.This 3d model series from Meshbox Design is now available in the new Mirye content store and is available under two licenses: PRO (inc all formats + .max original file + real time playback licensing for games) and ART (any 2D renders, stills, animation, etc, even animations included in games).  Select ART licensing for Blender, Poser / Daz Studio, e-on software's Vue and Bryce. If ordered through Mirye Store, all include an additional .3DS version.
Each model now  includes a newly designed high resolution texture pack that includes diffuse texture maps, bump map and normal map replacements with sizes from 1377 x 1377 to 4096 x 4096. Orc Bonecarver, the bonus model, includes 51 additional texture files. The original texture maps are also included by default.
Upgrading to this Version of Orc Village Volume 1
If you previously licensed the set after August 1, 2016, you can request a free upgrade to this version. If you previously licensed before August 1, 2016, you can upgrade to this version for only $19. Upgrades to this version from a previous purchase of this set are for a limited time and end August 31, 2017. After that, the full price applies even to previous customers.
Where to Get this Product
The individual models are available on the new Mirye Store (and also being released on Content Paradise). The upgrade to the new Complete Edition is only available on the new Mirye Store.