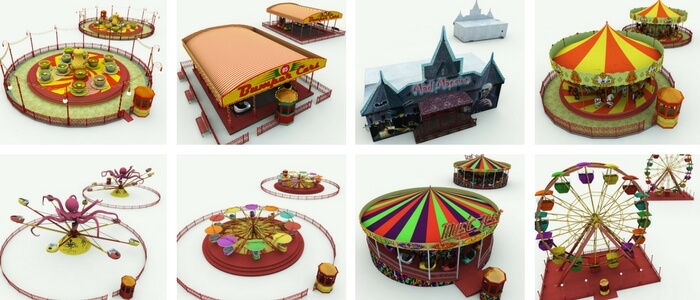 Amusement Park 3D is an eight model 3d model set for Blender, Poser / DAZ Studio, Vue 3D, Shade 3D, Bryce & 3DS MAX. From Meshbox Design.
Amusement Park 3D Volume 1 R2 is a set of models based on the modern (late 20th – early 21st century) amusement park – including the traveling carnival or the more seasonal or permanent amusement park. This first volume features common rides found in amusement parks. This set includes:
AP1V101 – Tea Cups Ride
AP1V102 – Mad Mansion Haunted House Ride
AP1V103 – Bumper Cars Ride
AP1V104 – Carousel
AP1V105 – Octopus Ride
AP1V106 – Paratrooper Ride
AP1V107 – Music Fest Ride (Music Express)
AP1V108 – BONUS MODEL –  Ferris Wheel
Each model is fully textured. Mad Mansion has a complete interior.
Where to Get Amusement Park 3D Volume 1
Models Included in Amusement Park 3D Volume 1