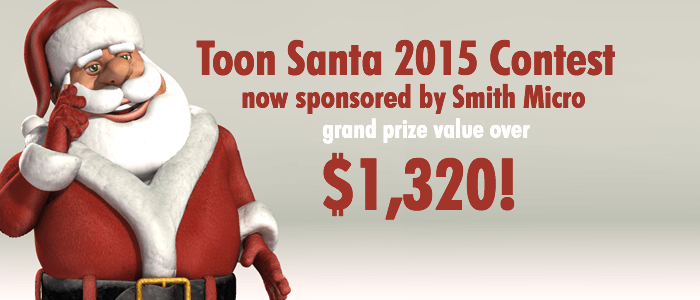 Grand winner to get over $1320 in software and content from Smith Micro and Mirye Software, plus three runner up prizes. Make your guess now!
Mirye Software partner Smith Micro is now sponsoring the Guess Toon Santa 2015 Contest, adding over $1000 in titles to the grand prize winner plus prizes for the top three guesses.
The first person to correctly guess (if anyone guesses) the theme for the 2015 Toon Santa will get the following prizes:
Toon Santa 15 + Christmas Village 2015
Plus, three people who provide the most interesting (but incorrect) guesses will also be able to choose one of the following products: Poser 10 or Anime Studio Debut 11 or Manga Studio 5.  All software is delivered as a digital download.
For complete details on the contest, please see the link on the Mirye Software website.