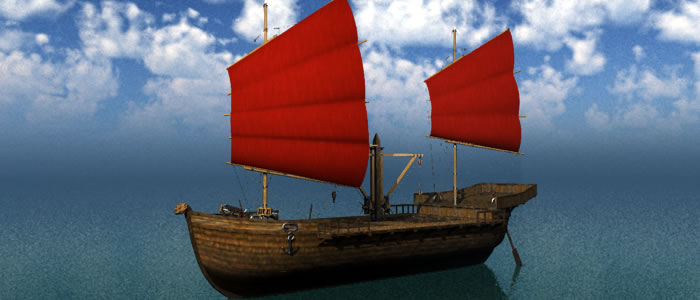 3D Orc Merchant Ship  for MAX, Poser, DAZ Studio, Shade, Blender, Vue and Bryce released fully textured with normal and bump maps.
About Orc Small Sail Ship R2
The opportunistic Orc merchants are skilled traders when opposition is possible, and pirates when they can – therefore their merchants are always prepared for battle and booty. An Orc Merchant Ship is a two masted affair, with a pair of stone casting ballistas as well as a more advanced Orc Flamethrower for protection. Twin cranes make moving of cargo or booty fast and easy, and a wide hold below can contain crates or any other type of cargo.
About Orc Journeys Volume 1 R2
The races of Orc are many, from the nobles of the First House of Orc to the wild Dragon tribes of the eastern plains. Though their ships lack the sleek beauty of elven craft, Orc ships are better prepared for battle than their foes. Orc Journeys Volume 1 – aka Orcs and the Sea – is a collection of water craft models based around the Orc themes first introduced in the Meshbox Orc Village Series.
Where to Get this 3D Model
Orc Small Sail Ship R2 Gallery