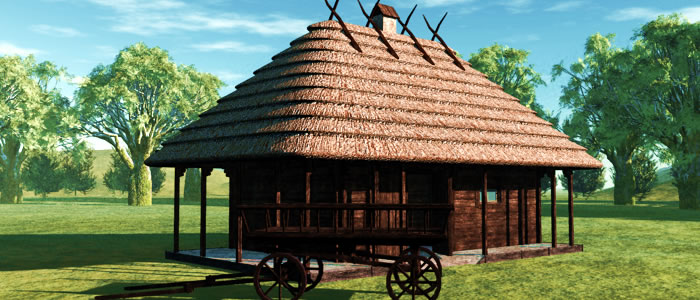 Medieval Ukraine Blacksmith 3D is model 4 of 8 of a series of historical 3D models for Poser / Daz Studio, Vue, Shade 3D,  Bryce,  Blender and 3DS MAX. Completely furnished and textured.
Every town needs one, to create horse shoes, create metal tools and now and then create a weapon. This thatched building has a cart outside. Inside, there is a wall of tools, full forge with bellows and an anvil. If you are creating a scene from historical Eastern Europe, this is a must have.
About Medieval Ukraine Village Volume 1
Medieval Ukraine Village Volume 1 series is a collection of 3D models based on the medieval history of Ukraine and the lands of the Kievan Rus' circa 9th-11th century. Medieval Ukraine Market is model 3 of 8 in the series.
Medieval Ukraine Blacksmith Gallery